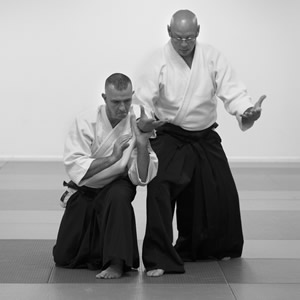 Prince Bishops Aikido is part of White Rose Aikikai.
Shane Riley Shihan 7th Dan is the chief instructor and head of White Rose Aikikai. He began training in Wado-Ryu Karate at Mirfield Karate School in the early 1970s where he achieved the rank of Shodan. He later began training in aikido in 1975 with Vincent Thompson Sensei 7th Dan, as he felt that this would complement his Karate training.
In September 1979 he began to teach a small aikido class at Huddersfield Sports Centre for his friends. One month later he decided to make the class a formal club, naming it White Rose Aikikai.
Terry Bayliss Sensei 8th Dan, the principal of the Seijisu Aikido Ryu and one of the senior instructors for the British Aikido Board promoted Riley Sensei to Shihan (7th Dan/Master Teacher) in December 2009.
The White Rose Aikikai is based in Dewsbury and has classes in Pudsey (near Leeds), Stockport, Hyde, Orcop (Herefordshire) and Kyoto, Japan. Riley Shihan and other senior White Rose instructors regularly visit Durham to teach classes and courses.